SALT PANELS FOR INTERIOR DESIGN
In response to our customers demands our experts developed SALT PANELS- product dedicated to different types of saunas. combination of properties of Sauna, Salt, beauty and ambiance makes for an experience beyond expectations. Being aware of therapeutic properties of rock salt and in response to our customers' demands, experts from KRYSZTALOWY ŚWIAT, using their many years' experience in designing salt structures gained in the Wieliczka Salt Mine, have developed Salt Panels® product dedicated to different types of saunas, thus increasing their healing properties.
Benefits of using Salt Panels® in saunas:
Increase saunas' healing properties
Increase visual attractiveness of saunas' design due to colours of Salt Panels and illumination
Easy to assemble
Suitable both for already existing and newly designed saunas
Interesting illumination systems, including backlighting
Ready to use in almost all types of sauna.
The saunas in which we use our salt panels are different from the other places of such type due to the fact that the panels consist of salt crystals and compose with wood . It gives te possibilities to create interesting, original and creative interior design. The combination of wood and salt tradition has been widely known for hundreds of years and it is practised as it is in Salt Mine ( corbels are always made of wood due to the high mechanic endurance acting on them).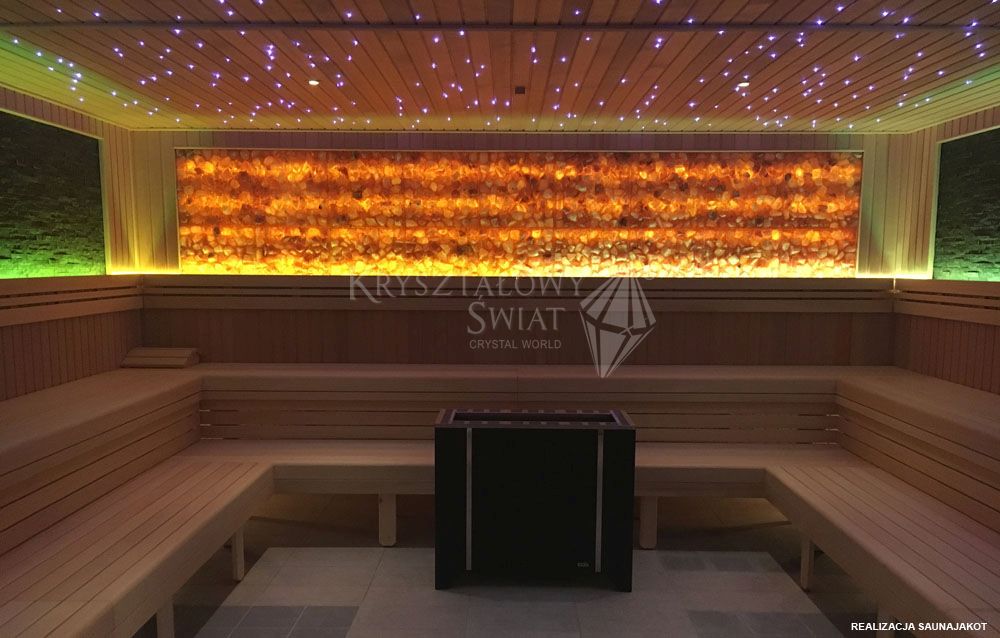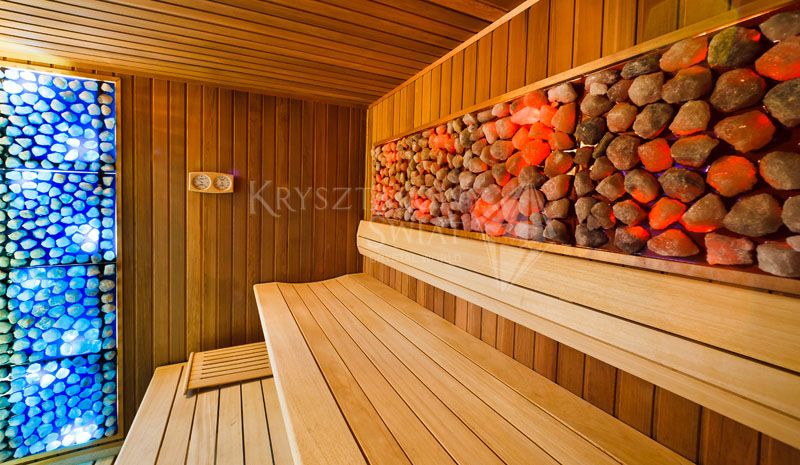 Saunas are widely known of their beneficial and general effects on human health and well being. These effects can be further enhanced by installing inside our Salt Panels®.
The basic features of Salt Panels®:
Size: 50x50 cm (20x20 in)
Unit weight: 14 – 16 kg (31 – 35 lb)
Orange and white colours of salt crystals
Colours of the bases: yellow, blue, green, red, orange, brown
Salt Panels®' thermal resistance of Salt : 110 °C
One panel recommended for every 1,5 to 2 cubic meters of sauna's space. (5 to 7 cubic ft)
They have patents and hygienic attestations.
Salt panels offered by our company are dedicated to all types of saunas and steam bath. They increase visual attractiveness of saunas' design and improve saunas' healing properties.











Healing properties of salt
Many years experience of pulmonologists indicates that Salt Panels cures and alleviates many human ailments, giving psychological and physical comfort every single day.
:
jodine
- wich is for proper functioning of thyroid, essential in metabolism,
calcium
- strengthens the organism's immunity, alleviates irritation and regulates the functioning of circulatory system.
magnesium
- has the positive effect of cardiac and vascular system,
potasium plus sodium
- have very beneficial effect on heart and improves skin blood supply,
iron
- is the essential component of haemoglobin, improving the blood structure,
selenium
- impedes the proces of skin ageing.
Crystaline rock salt is a natural ionizer, efficiently improving quality of air by emmision of negative ions. Negatively ionised allows to improve our phisical condition and supports the treatment of several diseases such as: asthma, things diseases, bronchitis, cardiovascular problems, after heart-attacks states, hypertension, peptic ulcers of stomach and oluodenum, gastitis, psoriasis, skin inflammation, allergies, sensitibilization, various types of neurosis, reduced resistance to stress, exhaustion.
Our specialists will give you all information about our products with pleasure.