CRYSTAL SALT CHAMBER
Crystal Salt Chamber is a product that has the closest resemblance of being in underground Wieliczka Rehabilitation Chamber.
Thanks to our patented, self-invented technology we are able to come as close to the nature as possible and satisfy our most demanding customers' needs.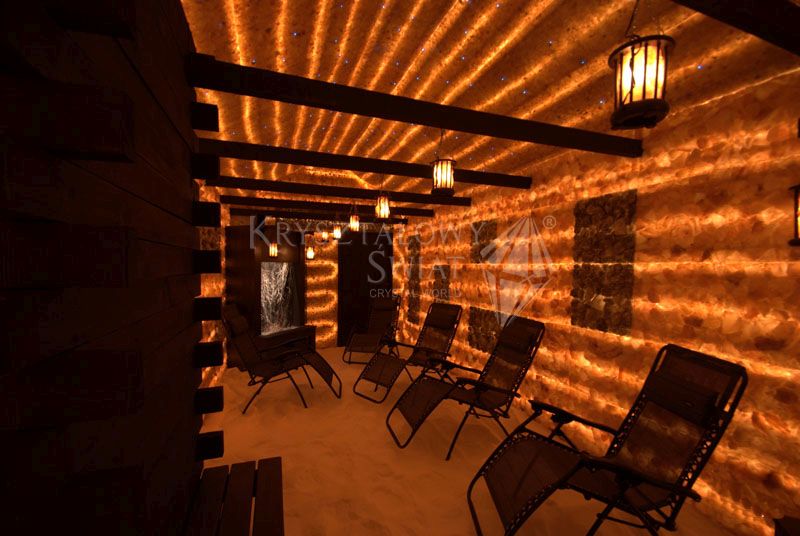 Basic advantages of Crystal Salt Chamber:
Walls are covered with Salt Plates® or Salt Pictures according to our clients' needs
The technology requires only 10-15 cm of space on all sides of the room
Salt Plates® or Salt Pictures placed to optional height (the standard is 250 cm)
All walls can be illuminated from inside, thus increasing decorative properties of the product. Additional emission of warmth enhances healing qualities of salt.
You can chooose between 5 colours of salt (white, grey, orange and two unique colours: blue and green)
Our Crystal Salt Chambers can be disassembled and moved to a different room or location
It´s possible to create various patterns on the walls
We provide you with rich interior design options, including: wood elements, cascades, inside and outside illumination systems, air conditioning and ventilation systems, sound and monitoring systems and playgrounds for children
It´s possible to make ceilings imitating dripstones characteristic of natural caves (stalactites) and old pit shafts' timbering
Wide application in treatment of the following diseases: respiratory system problems, allergies, neurosis and depression
Improved well-being due to micro elements contained in air
Healing properties of salt
Many years experience of pulmonologists indicates that Crystal Salt Chamber cures and alleviates many human ailments, giving psychological and physical comfort every single day.
Our products consist of the innumerable microelements indispensable for people's life, such as:
jodine
- wich is for proper functioning of thyroid, essential in metabolism,
calcium
- strengthens the organism's immunity, alleviates irritation and regulates the functioning of circulatory system.
magnesium
- has the positive effect of cardiac and vascular system,
potasium plus sodium
- have very beneficial effect on heart and improves skin blood supply,
iron
- is the essential component of haemoglobin, improving the blood structure,
selenium
- impedes the proces of skin ageing.
Crystaline rock salt is a natural ionizer, efficiently improving quality of air by emmision of negative ions. Negatively ionised allows to improve our phisical condition and supports the treatment of several diseases such as: asthma, things diseases, bronchitis, cardiovascular problems, after heart-attacks states, hypertension, peptic ulcers of stomach and oluodenum, gastitis, psoriasis, skin inflammation, allergies, sensitibilization, various types of neurosis, reduced resistance to stress, exhaustion.