SALT MINE
Krysztalowy Swiat® company cooperates with Wieliczka Salt Mine, Wieliczka Salt Mine Underground Rehabilitation and Treatment Centre and Salt-Works Museum in Wieliczka. Our experts' profound knowledge and many years of experience was starting point in creation of our innovatory solutions such as: Salt Plates®, Salt Puzzles, Salt Panels® for saunas, Crystal Salt Chambers, Salt Grottos, Salt Caves, Brine Graduation Towers and salt-made interior design.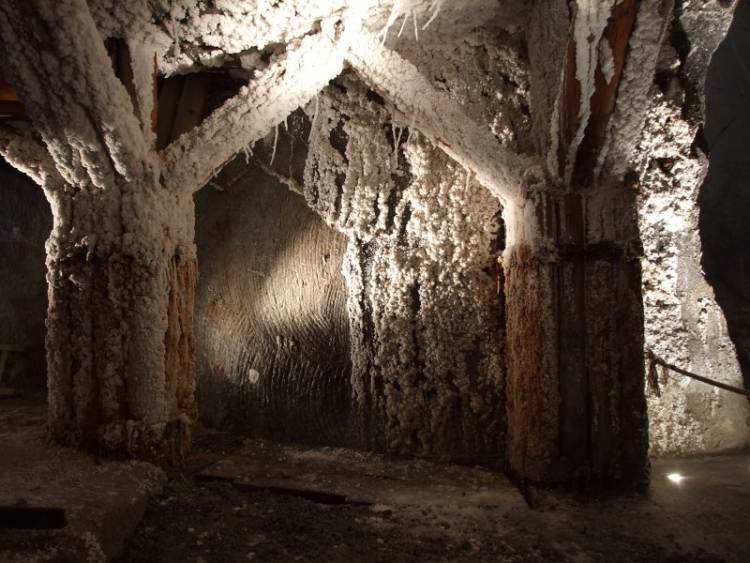 Wieliczka Salt Mine, which is considered to be one of the most famous mines in the world, has its origins as far back as in the Middle Ages. The first mention of the mine can be found in the Prince Casimir's I The Restorer "Privilege" – document from 1044, in which Wieliczka was called "magnum sal alias Wieliczka" meaning the great salt.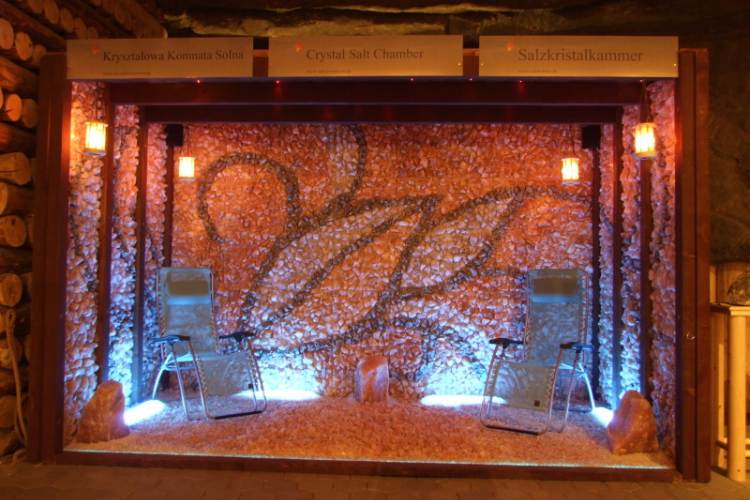 Since Middle Ages salt has become an essential part of Polish economy system, while in the ancient times it was used as a legal tender. Primarily salt was evaporated from salt springs and sea water. The beginnings of the rock salt mining on the Polish soil are unknown, however the process was probably initiated accidentally, when workers deepening saline wells came across a salt deposit.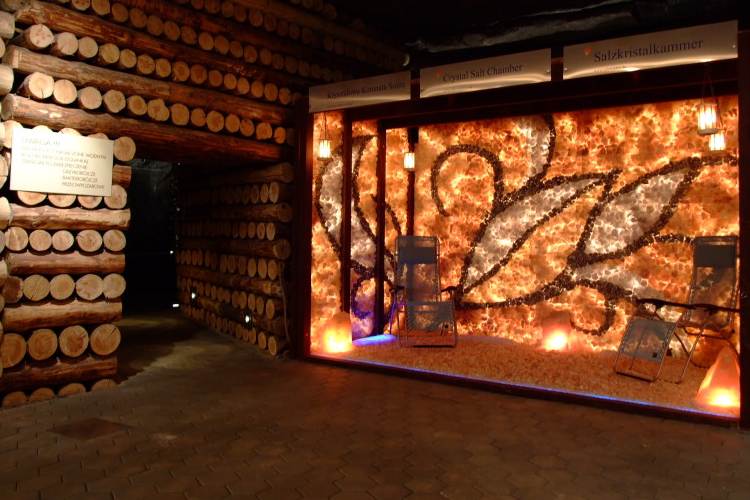 In course of time salt became important tool of authority. In the XIV-th century benefits derived from mines performance constituted 30% of Polish Treasury incomes. Mines gave the maintenance to the King's Court and several castles responsible for protection of trade routes. The Cracow's Academy (former name of Jagiellonian University) owe its existence to the salt extraction. Its founder, King Kazimierz The Great financed the entire Academy from the mines' revenues, while his successors as well as Polish nobles granted additional funds to its activities.

In 1368 mines' activities were specified by Casimir The Great, in a document known as Casimir's Charter. This law defined rights and duties of particular civil servants and working groups, transactions settlements between production and Treasury, working salaries and salt retail prices. Main instrument of King's control over the mines were special commissions established to investigate the state of underground excavations, salt mines buildings, regularity of clearings with the state and to issue recommendations and instructions for miners. In the XVI-th century the Wieliczka Salt Mine became one of the greatest European businesses of its times. Apart from the crew directly connected with production and administrative workers, the mine employed carpenters, coopers, blacksmiths, carters, stables,etc.

In the middle of the XV-th century mine´s incomes allowed rennovation and further development of Wawel Royal Castle. At the same time the salt mine was deepened in search of new, bigger salt deposits. King´s supremacy over the Mine ceased in 1772 when Poland´s First Partition took place. During Austria´s administration new methods of extracting salt were introduced. Long Austrian ruling period influenced positively on technical condition of the Mine and brought stabilization. At a time development of the Wieliczka occurred. A new power station was set in motion in the vicinity of the mine. Furthermore, a railway has been built between Cracow and Wieliczka. Excavation works were mechanized. In this process hand drills were replaced with pneumatic equivalents and a salt mill and a steam hoisting machine were set in motion. Some service workshops and joinery cooperating with salt mine were built. In 1912 a new mechanized saline was activated which after a few modifications has been operating up to these days.

Interwar period brought stability and further development. The Mine developed in the fields of production, healthcare and tourism. Especially healing properties of salt should be put into consideration. They were spotted in the XVI century by humanists, who claimed that salt mixed with some other substances can be very helpful in dealing with snakes' bites, eczemas, ulcers, anginas, gout and many other diseases. Balneology development in the XIX-th century was directly connected with Wieliczka, where in 1826 salt bath treatment was launched. Thanks to doctor Feliks Boczkowski the first salt baths centre was opened in Wieliczka. The purpose of the following facility was to cure 36 different types of illnesses – from cold to infertility and from hysteria to so called 'love abuse diseases'. Healing with salt baths ceased after dr Boczkowski´s death in 1855. The revival of this idea occured in 1958 thanks to Mieczyslaw Skulimowski´s initiative (founder of the Wieliczka Salt Mine Underground Rehabilitation and Treatment Centre). Special micro climate of salt mine underground excavations enabled curing patients from following illnesses: asthma, bronchitis and allergy. After WWII, which was the period of intensified extraction and Germans' attempts to run production line for the military purposes, difficult times fell upon the Mine. Exploitation of the Mine central deposits, in the close vicinity of antique excavations caused serious unbalance of a rock mass and acceleration of the tourist track area destruction. These rash actions had a bad influence on the structure of the rock mass. In the 50\', as a result of the very bad condition of several chambers visited by tourists, protecting works were commenced in the Mine. At first they were financed by the Ministry of Culture. Then a special fund for protection of the Wieliczka Salt Mine has been established.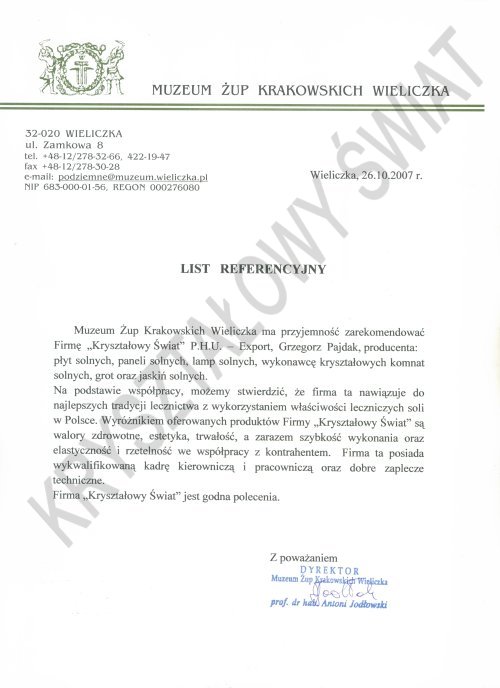 Recommendation for the "Krysztalowy Swiat®" company issued by Salt-Works Museum in Wieliczka.